Countertop Product Descriptions & Styles
Wilsonart THINSCAPE ™
Thin is In
Available in 12 stunning designs, Wilsonart THINSCAPE performance countertops feature on-trend, European-inspired "thin" profiles. The perfect complement to today's thinner cabinet profiles, thin countertops are trending in residential kitchens everywhere. When paired with classic stone and woodgrain designs, Wilsonart's THINSCAPE countertops appeal to both classic and contemporary styles.
Wilsonart THINSCAPE countertops are highly versatile, durable and ultra-thin. Available in a variety of beautiful large-scale looks with unique finishes, THINSCAPE countertops deliver affordable luxury with exceptional performance.
LIMITLESS DESIGN: Ultra slim decorative slabs feature a variety of surface material looks including large scale stone, quartz, planked wood and aged metal designs. Expertly matched finishes in today's sought-after ultra-matte and lightly textured sheens.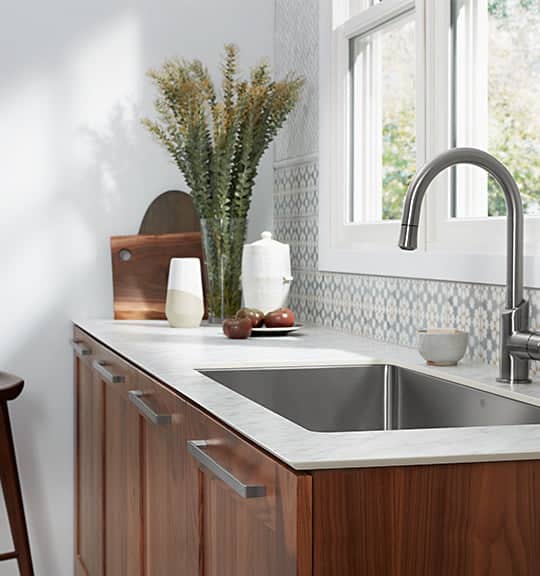 EASY TO MAINTAIN: Worry less about spills or messes and more about your creative vision with this low maintenance, stain-resistant material.
DURABLE: Made to be impact, abrasion and scratch resistant, this surface was made to stand up to every day wear-and-tear.
ECO-FRIENDLY: Designed for indoor spaces, GREENGUARD Gold certification gives you added assurance that Wilsonart THINSCAPE Performance tops meet strict chemical emission limits.
WARRANTY: 1-year manufacturer's warranty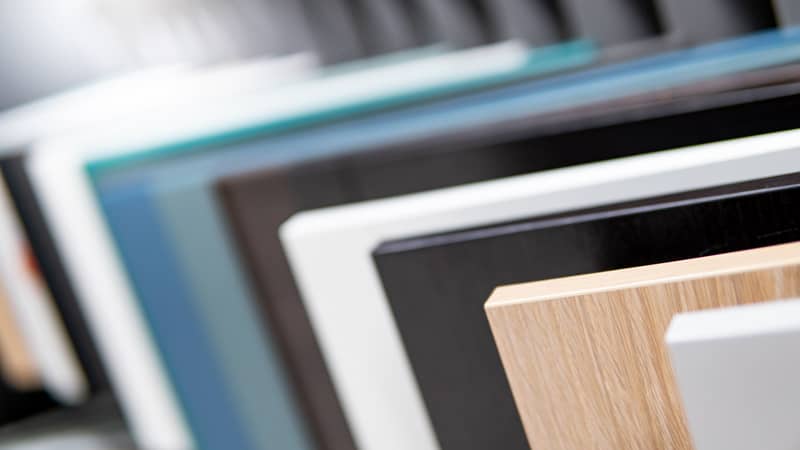 Laminate Countertops
Easy to clean without the need for special treatments or sealers
NSF/ANSI certified for food contact
Stain-resistant
Resistant to mold, mildew or bacterial growth
Strong and durable
Available in post forming or general-purpose grades
Also offered in solid core (continuous color throughout- no dark edges)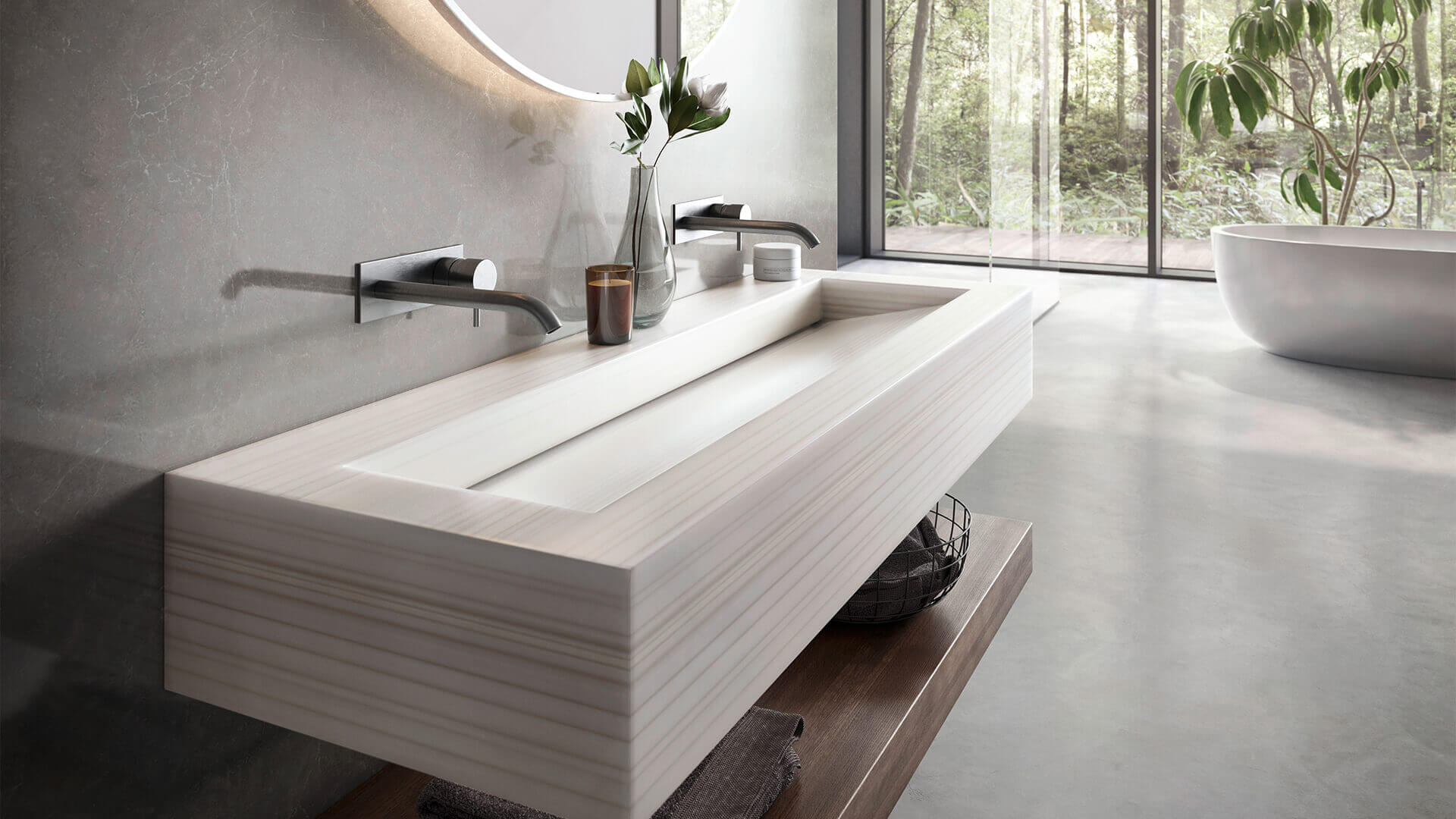 The True Beauty of Corian® Solid Surface
Features & Benefits
FLEXIBLE AND VERSATILE: Corian can be thermoformed, carved, molded, textured, and routed to conform to your imagination in both horizontal and vertical applications.
DURABLE AND RESTORABLE: Tough and long lasting, Corian stands up to heavy use. Marks and scratches can be removed easily to restore Corian to its original appearance since the color runs all the way through.
SEAMLESS INTERGRATION: Corian countertops, sinks and backsplashes are designed for seamless integration with no crevices to trap dirt and bacteria.
STANDARDS AND COMPLIANCE: Most Corian solid surface colors are certified for food contact. They are also Class1 (Class A) fire rated.
HEAT-RESISTANT: Corian solid surface is heat-resistant but the use of trivets or heat pads is recommended.
NON-POROUS AND STAIN RESISTANT: Corian solid surface is a non-porous surface and resists stains. When properly cleaned these surfaces do not support the growth of mold, mildew and bacteria.
TRUSTED AND SUPPORTED: Corian solid surface is backed by a 10-year limited product warranty.
CONTRIBUTES TO SUSTAINABLE DESIGN: In finished installations, Corian Solid surface and adhesives and sealants are low VOC and are nontoxic and nonallergenic to humans. Corian is GREENGUARD Indoor air quality certified.
Karran Sinks®
Since the early 90'S Karran Sinks have been the industry leader in innovation when it comes to the kitchen sink. They figured out how to under-mount sinks seamlessly into any laminate. Now they are producing the world's first stainless steel sink with a resin matrix rim, allowing for complete seamless integration into a laminate or a solid surface countertop. Available in acrylic, stainless and quartz.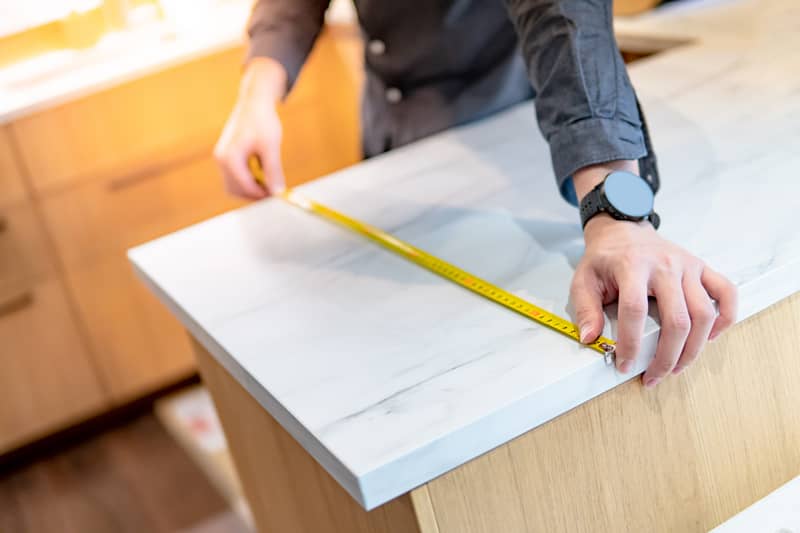 We do quality installations as far south as Lake Country, measure and give quotes at no charge and remove your old countertops to start the project. If you are a do-it-yourself person, come into our showroom on 11th Avenue in Vernon to discuss product options, and order your new countertops. We focus on providing a complete renovation package for our customers. We specialize in postform and flatlay laminate and solid surface countertops.
Postform laminate countertops
Flatlay laminate countertops
Solid surface
THINSCAPE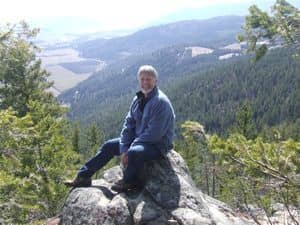 David Crandell

Accent Countertops Inc.
Call us with your design ideas or come into our showroom on 11th Avenue in Vernon BC to check out the latest features of our amazing countertops - we would love to meet you!